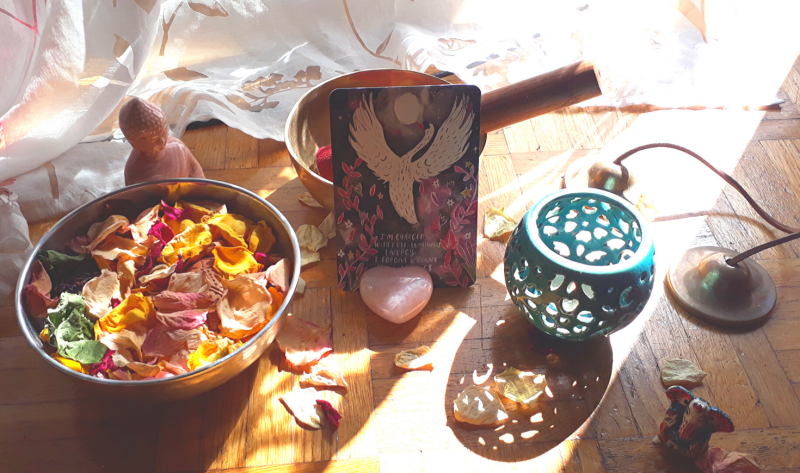 Feminine Essence - Women's Retreat
5.-8.March 2020
Join us on a 3-Day Women's Retreat to reconnect with your feminine essence through yoga, sacred rituals, dance and time for yourself.
Nourishing your mind, body & soul.
Many women have lost their connection to their femininity or have at least an ambivalent relationship to it, due to the way we grew up, some negative experiences, the male dominated society... So many things happen unconsciously, we put ourselves down, hide our feminine powers because of being afraid to be hurt when we really open up, receive, let go, get soft. Women were fighting for years to be strong and "like men". But we are different and this is neither good or bad. It´s the balance of Yin - the feminine and Yang - the masculine, that the world needs, that we need.
It's time to heal all the old wounds that hurt our femininity, it's time to re-connect to our beautiful Yin powers and let them blossom in our hearts.
When we live our feminine potential to the fullest,
we feel free, confident with our softness and strong from deep

within

.

we

are

able to let go, to surrender to life's beauty, to love fully, to stand clear in our power, to know what we want, what serves us, which relationships are nourishing us.

we

are

able to shine our feminine light bright in ourselves and to others and by that allowing them to shine too.
So join us for this celebration, for healing wounds deep inside our wombs, for feeling into What does femininity mean to you? And how do want to live it?
We will create and hold space for deep healing, for feeling, for expressing, for reconnecting with our sweet bellies.
Yoga, Shamanic Journeys, Coaching Methods, Self inquiry, Rituals, Movement, Dance and Thai Yoga Massage will guide our way.
Together we will explore the feminine, the Yin, the Shakti Goddess inside of us.
Schedule
Day 1, Thursday
13:00 - 15:00 Check-In
15:00 - 16:00 Welcoming Circle
16:00 - 18:00 Yoga / Meditation
18:30 - 20:00 Dinner
Days 2 & 3, Friday & Saturday
08:00 - 10:00 Yoga / Meditation
10:00 - 12:00 Brunch
12:00 - 14:00 Free Time
14:00 - 15:30 Workshop for Women's Health / Womb Power / Femininity / Sexuality / Yin Space / Nature Walk
16:00 - 18:00 Yoga & Elements / Thai Yoga Massage / Osteothai
18:30 - 20:00 Dinner
20:00 - 22:00 Ritual / Dance / Ceremony / Sauna
Day 4, Sunday
08:00 - 10:00 Yoga / Meditation
10:00 - 12:00 Brunch
12:00 - 13:00 Ritual & Closing Circle
*Schedule might be subject to minor changes
LOCATION
AURORA Faszination Natur - Carinthia
A little paradise in the middle of the woods! Aurora is the name of the Roman goddess of sunrise whose tears turned into the morning dew :)
https://dom-aurora.at/
PRICE
Early Bird: 520 € (until December 24th, 2019)
Regular: 550 € (after December 24th, 2019)
*price includes accommodation, yoga/program, brunch & dinner
terms and conditions for download: Teilnahme und Stornobedingungen
TEACHERS
Iris Enz
Iris is a joyful Yogini, Life Coach and Thai Massage / Osteothai Practitioner. She encourages the reconnection with nature, the elements, to let our inner sun shine in it´s fullest potential. She loves to hold space for women to dive through old emotional/energetical layers back to their inner source of happiness. This is freedom.
Nicoleta
Nicoleta is an experienced and passionate Yoga teacher and Thai Yoga Massage practitioner based in Zürich. She is committed to sharing the practices of Yoga and Thai Yoga Massage as a way to promote well-being, self discovery and get in touch with the natural state of being. She also loves to create rituals to celebrate womanhood and to empower women to be and own their beautiful self. More about Nicoleta on her website: www.yutori.ch